Getting Started with Search Engine Optimization
With easy access to the internet and a huge amount of readily accessible information, consumers expect to find the information they need immediately.
When people in your market audience search for answers to their questions, they will get results. But will they get their information from you, or from your competitors? The only way to successfully do business in today's market is to get your brand on top of the search engine results page (SERP).
#1 Ranking for Keyword Searches
On average, every day, over 4 billion internet users perform 5.6 billion searches. The mesmerizing Internet Live Stats show the current internet statistics for 2019. In today's business market, the secret to success is getting found! You need to make it simple for consumers to find you when they are searching for the best company to spend their money with. And when they do find you, you need to make sure the impression they get is one of excellence and authenticity.
Paid search like Google Ads and other Pay-Per-Click services have changed the digital marketing landscape. Boosting your online presence with a paid search ad campaign is a great way to improve your rankings, however for long-term SERP success you need great organic search performance. MercDigital can help you dominate the search results and reach your customers. To help you understand how SEO can work to boost your business revenue, we explain the latest on search marketing, web ranking statistics, click-through rates, and SEO information in our knowledge base.
How do Search Engines Work?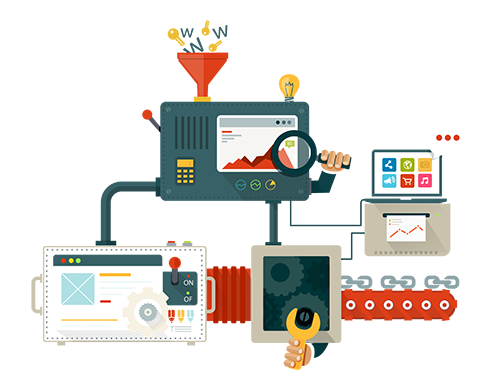 For every query that is entered into a search engine, a search engine robot compares the search terms with collated and indexed data from around the web to decide which sites best match the keyword terms used.
Search engines want to offer users the best experience with the most helpful results. It's in Google, Bing, and Yahoo's best interests to make sure people find the results they need when they enter various search terms into their engine. Understanding how search algorithms work is the best way for you to get found!
There are some 200 factors that determine site ranking, and these change all the time. Google makes some 500 to 600 algorithm changes each year! These updates are designed to improve performance, but they are rarely advertised or confirmed by Google. Recently, Google released a major core algorithm update in March 2019 that saw changes to search results. SEO experts make it their business to stay up to date with the effects these changes have on search performance and rankings.
The more useful you make your page for your customer base, the more Google and Bing will love you! Good on-site SEO will continually work to increase your search result page ranking. Your MercDigital marketing experts know the best SEO tricks to improve ranking including relevant keywords, title tags, meta descriptions, sitemaps, structured URLs, internal linking, load speed, and fresh content.
Good off-site SEO shows Google that you are a trusted source of information for the product or service that you provide. SEO best practices for optimizing offsite performance includes diversified backlinks, website bookmarking, custom blog articles, article engagement, and directory submissions. Building trust with Google takes time and it's done through a series of small, but important, steps that each build upon each other.
Choosing the Best SEO Keywords for Search Ranking
Choosing the best keywords to use on your site is both a science and an artform! A combination of short-tail and long-tail keywords is essential for reaching the most relevant audience, and to help out the search robots crawling your site. Solid keyword research will help you to know what people in your niche are interested in and how best to communicate your brand or product to the world.
Keyword research helps you pinpoint opportunities to get a larger share of search traffic for your brand and products. You can't possibly cover all the search terms likely to send traffic to your site. Some keywords are so over-saturated they are close to useless. It's important to prioritize which keywords are worth focusing on according to their traffic potential.
It's not enough to only conduct your keyword research once and then assume your SEO is doing its job. Search engine optimization and keyword analysis is an ongoing commitment. Getting your site ranked highly is an ever-changing process that requires a strong understanding of your business, your industry, your consumers, and the various search engine algorithms. Your SEO strategy must stay up-to-date.
Getting on Top of the Search Results Page
In 2014, Moz conducted study of Google's Organic Click-Through Rates and found that the first five organic search results account for around 67% of clicks. With the next five results receiving only around 4% of clicks.
In 2019, seoClarity updated these Google CTR stats following a study of over 2 billion impressions for both desktop and mobile. They found that the first five organic search results on desktop received 44% of clicks, with the next five results receiving 12% of clicks. Consumers in 2019 are more likely to scroll through the first page of search results to read snippet contents and browse their options before making a personal choice for which website to visit.

Results vary drastically on mobile with the first result getting close to 28% of click-throughs with a large drop-off for all secondary results. A bump around position 4 shows the links that appear on the top of the second mobile results page. This shows that consumers would rather move on to the second page rather than read the results at the bottom of the page.
On desktop, result #1 achieves an average CTR of 19.3% compared to result #10 with 2.2% CTR.
On mobile, result #1 achieves 27.7% CTR compared to result #10 with 2.8%.
While research shows that people prefer organic listings over PPC ads, about 15% of searchers will click on an ad or try a different search term rather than move on to the second results page. Things get very lonely by the time you get to the third page of search results with only 1% of click-throughs coming from Google's 3rd SERP.
Your business needs to be on the first page of search results for relevant queries. Search query data from the Google Search Console allows you to perform a gap analysis to find which keywords are most likely to help improve SEO. MercDigital will analyze your niche and create a target keyword list structured around consumer search behavior.
Making use of SEO in your Digital Marketing Campaign
Getting on top (and staying on top!) of the search engine results page requires regular evaluation and ongoing optimization. Our professional SEO services include Campaign Setup, Keyword Research, Website Audit, Existing Keyword Optimization, Onpage Website Optimization, Custom Content Creation, Business Profile Development, Backlink Portfolio Development, and full Analytics Reporting,
Quality SEO content will naturally evolve from well-written, valuable, and relevant content. MercDigital's professional writers are knowledgeable about SEO best-practices and know how to craft your message to inform and engage your readers while also making it easy for them (and Google) to find your website.
Our SEO experts can evaluate and improve your website's search engine result performance. Our powerful reporting tools offer you measurable results, so you can be sure our search engine optimization methods are working for you.
Find out how MercDigital can help you.
Learn more about the marketing strategies and tools MercDigital uses to build your brand's online presence, reach new markets, engage with your audience, identify your most profitable customers, and increase your conversions and sales.
Ready to take action?
Let MercDigital's simple IRR marketing philosophy work for you.
We can turn your advertising dollars into pure profit.
Do you need help to improve your business Impression, Revenue, or Reputation?