Maximizing Results with Paid Search Advertising
It takes time and hard work to win positioning in organic search results through SEO alone. In the meantime, Paid Search gives your business the boost it needs to get ahead of your competitors. A Paid Search campaign is an extremely effective way to grow your business through increased exposure. Once you've built a fantastic website full of great content, it's time to get creative and draw customers to your site with highly visible and compelling text ads.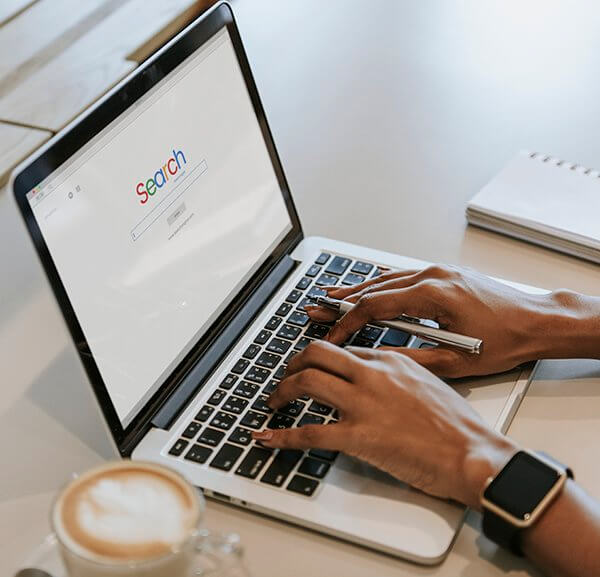 Paid Search is a digital marketing tactic that's based on SEM (Search Engine Marketing). This method of advertising is suitable for campaign strategies where the desired result is to increase the visibility of a business's website when specific keywords are searched for.
Paid Search follows the pay-per-click (PPC) model. Search engines allow you to show a customized advertisement on top of their search results page as a sponsored link. In creating the Ad, a business will bid on paid keywords with an estimated cost per click (CPC) for each keyword string. Advertisers only pay for each PPC advertisement when someone clicks on their ad.
Paid search drives more qualified leads to your website by using keyword targeting. The people that see your advertisement are those that are actively searching for information on a product or service that you offer using keywords that you specify. To select keywords, you must bid on individual keyword phrases relevant to your target market. You then pay a fixed amount per click to your site.
The most well-known paid search platform is Google Ads (known as Google AdWords prior to July 2018). Google Ads advertisements are small text ads with a headline, main description, and a displayed URL.  AdWords expanded text ads allow for an increased character count in the displayed ad. Bing Ads offer a similar PPC service.
A successful Paid Search campaign relies upon creating eye-catching ad copy based on solid keyword research.
When a potential customer searches on Google, the search engine algorithm correlates their search terms with the most relevant Google Ads keywords and the advertisers' Ad Ranks. The Ad Rank determines the position that you will appear on the search results page. The key factors that determine Ad Rank are your CPC Bid and your page Quality Score.
CPC Bid is the highest amount you are willing to pay for each click to your site.
Quality Score is determined by Google using a combination of your ad text, click-through rate, the relevance of your page to the selected keywords, and user experience through optimization of your landing page.

The higher Google rates your Quality Score, the less you pay per click. Optimizing the on-page and off-page SEO of your site will vastly improve your Quality Score, meaning you will be able to bid less for each click. Google rewards intelligently targeted PPC campaigns by charging them less and offering them a higher placement on their SERP. The more specific and well targeted you make your ad copy and keywords, the better your campaign will perform.  A well-structured PPC campaign is one that is based on solid keyword research.
The bottom line is you'll be setting yourself up for much higher return on investment (ROI) from your marketing campaign by taking a cohesive approach to content, design, and keyword selection. Before starting with a paid search or PPC campaign, it's essential to have created a strong foundation with your website content and coding using keywords that match those you will be bidding on.
The exact weightings that Google gives to the factors that control their ad placements are a closely guarded secret. While the Google algorithm undergoes changes with each core update, the basic principles for PPC management in 2019 still follow the process as outlined by Google Chief Economist, Hal Varian, when AdWords was first released. For a simple explanation of how Google's Ad Rank, CPC bidding system, and Quality Score all work, watch Hal's video and read our beginners' guide to PPC and Google Ad Ranks.
MercDigital can provide the experience and support to create a winning paid search campaign. We offer high quality campaign setup and ongoing optimization to boost your complete marketing campaign and improve your ROI. Tap into new markets, generate new leads, and increase your brand exposure with Paid Google Ads.
We know how to promote your business to the right audience at the right time. As part of a fully managed campaign, MercDigital will perform everything needed to ensure success with your Search Engine Marketing including Paid Search and Organic SEO. We can even complement your Google Ad campaign with a targeted Facebook Campaign.
MercDigital's experts know how to run PPC ads with matching website content and social media posts for complete brand exposure. In addition to managing your PPC ads, we offer related services that include keyword research, market analysis, plus live digital ad reporting and analysis. Our marketing experts will create a campaign to suit your business goals – to generate more leads, promote a new product range, get prospects to download your latest brochure, or customers to sign up for your program or newsletter.
Want more advice before you get started? Visit our knowledge base to find out more about the advantages and disadvantages of pay-per-click advertising.
Find out how MercDigital can help you.
Learn more about the marketing strategies and tools we use to build your brand's online presence, reach new markets, engage with your audience, identify your most profitable customers, and increase your conversions and sales.

Ready to take action?


Let MercDigital's simple IRR marketing philosophy work for you.




We can turn your advertising dollars into pure profit.




Do you need help to improve your business Impression, Revenue, or Reputation?