Google Ads for Beginners.
Our Google Ads guide for beginners will show you how paid search will help you reach new customers and grow your business. Learn how Targeting, Keywords, Quality Scores, and Effective Landing Pages will boost your conversion rates.
Google Statistics for 2019
Google is now one of the most powerful and influential brands in the world.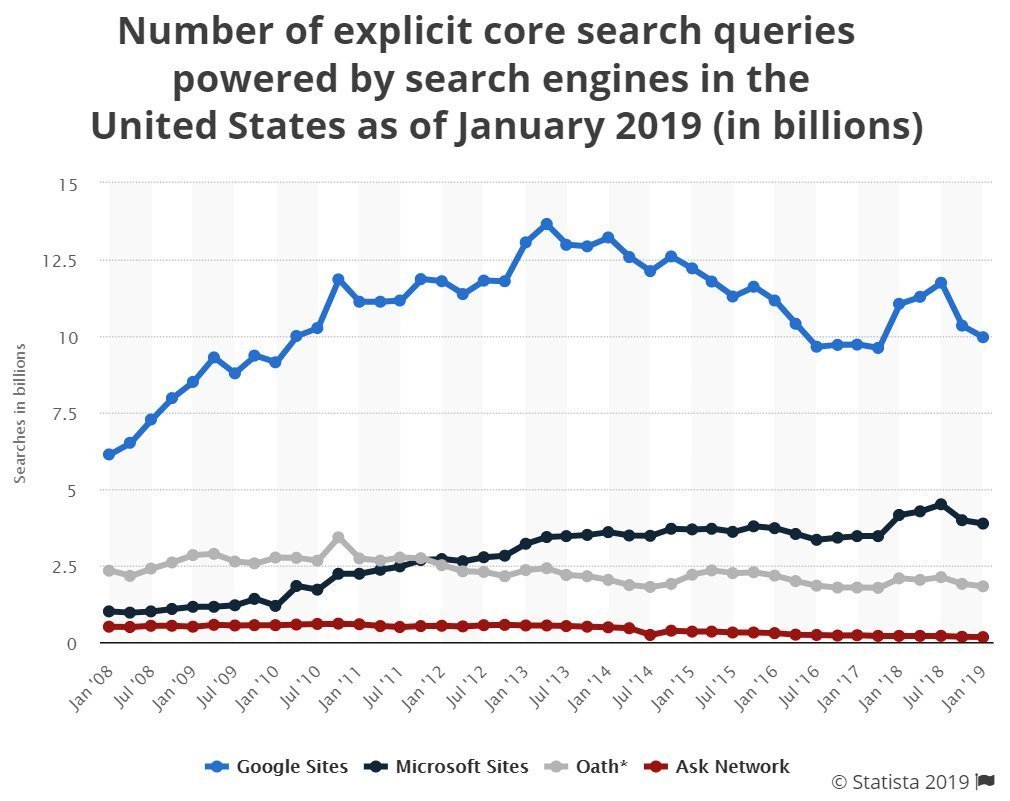 Why Use Google Ads for your Business?
Consumers rely on Google to provide them with trusted advice and the latest information on the best products and services to meet their needs. If you want to attract new customers to your website or local store, it is essential that you rank highly on Google search results, and can be found on Google Maps with a Google My Business listing.
Getting on top, and staying on top, of Google's organic search results page requires a long-term SEO strategy with fresh and relevant written content, on-going keyword analysis, and website optimization. SEO content is powerful! But it's not the fastest way to generate revenue.
Because organic SEO takes time, many businesses opt for a Paid Google Ads campaign to help boost brand awareness, expand into new markets, generate new leads, and drive sales. Google Ads is a performance-based marketing model – and it's fast!
You'll start seeing results almost immediately with your Ad going straight to the #1 position on the Google search results page. As long as you make sure you continue to bid on appropriate keywords to target searchers with the intent to buy, you'll see impressive conversion rates with Google Ads.
How Do Google Ads Work?
Google Ads is based on SEM (Search Engine Marketing) where the desired result is to increase the visibility of your business's website and services when a specific set of keywords are searched for.
When someone conducts a Google search using keywords or phrases related to your business, your paid ad can appear on the top of the Google search results page along with a small Ad label. The order in which ads appear is primarily based on how relevant and useful Google considers them to be for the person who searched, your bid amount, and several other factors.
Beneath these paid Google ads are the "organic" search results. These are unpaid links to websites whose content best matches the user's search terms. The more relevant Google considers the site content to be, the higher the link will appear in the list. Links to your website could appear in both the paid ad results and organic search results.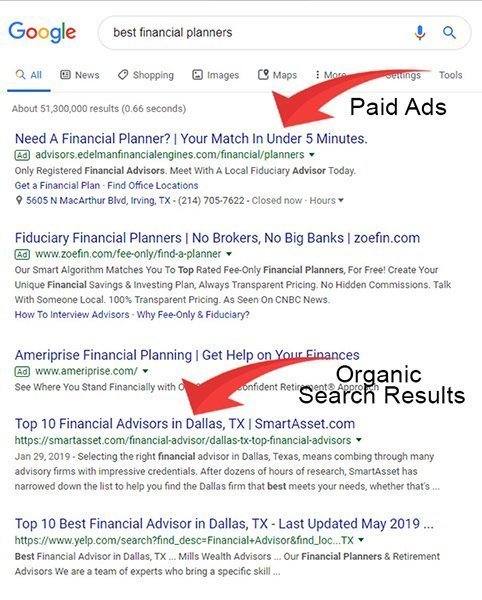 Google Ads include:
Search Ads

 that appear as text results on the Google results page.

Display Ads

 (usually image-based) that appear across the Google Display Network (which includes YouTube, Gmail, mobile apps, and over 2 million websites). Display Ads get your advertisement in front of a wider audience.

Video Ads

 that appear as advertisements within YouTube.

Location Ads

 that appear on Google Maps within search results page. Advertising on Google Maps is a powerful way to attract local customers.
What Factors Influence Ad Rank Position?
The position that you will appear on the search results page is determined by your Google Ad Rank. Each of your ads are given a ranking from 1 to 10 with higher quality ads given lower prices and better ad positions.
Your Ad Rank is calculated as your CPC Bid multiplied by your page Quality Score.
CPC Bid is the highest amount you are willing to pay for each click to your site.
Quality Score is determined by Google using a combination of your ad text, your click-through rate, the relevance of your page to the selected keywords, and user experience through optimization of your landing page.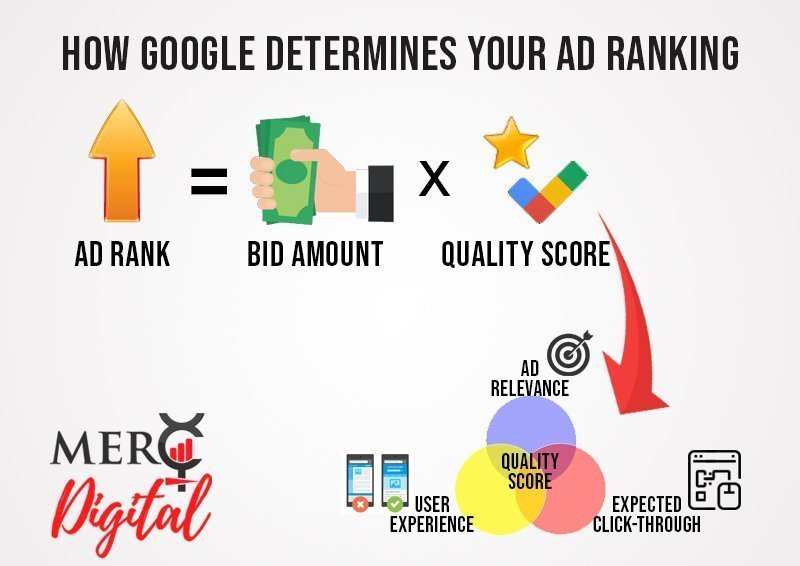 To get the best ROI for your Google campaign, it's essential that you optimize your website content to suit your Google Ad. The better your Quality Score, the less you pay every time someone clicks on your ad!
When Google AdWords was first released, Google's Chief Economist, Hal Varian, gave a simple breakdown of their new pay per click advertising system. He explained the factors that controlled how much advertisers paid each time someone clicked on their ad, as well as gave advice about how to rank higher than competing advertisers.
While it's been several years plus a few core updates to Google's algorithms since the video was released, Hal's explanation is a great place to start for beginners wanting to better understand how to maximize ROI and pay less for each click.
Target Your Paid Search Ad to Your Ideal Audience
Google Ads let you use a range of different targeting methods to reach potential customer groups. You can use keyword filters to reach customers right at the moment they are most interested in your product or service. You can even exclude search terms using negative keywords to limit your ad spend by avoiding appearing in search results less likely to results in genuine leads. Plus, you can use demographic targeting to make sure you're directing your advertising dollars towards people you consider most likely to become valuable customers.
AdWords Campaign Optimization
To ensure that your Google Ads campaign is getting you the results you want and delivering a high return on investment, it's important that you monitor your campaign performance. Act on the results of monthly reports to improve your ongoing campaign.
The impressions and clicks shown in the Google Ads report give you an indication of revenue growth potential from your campaign. You can leverage this data to optimize your landing pages for higher conversion rates and for organic SEO.
Improve your Google Ad campaign results by:
Adding negative keywords to reduce your wasted ad spend on low quality leads.

Running parallel Google Ads to expand your demographic reach.

Testing new headlines and ad copy to find the highest converting formula.

Work on improving your Click Through Rate, Quality Score, and Conversion Rate

Using Sitelink extensions with tailored landing pages.
Your MercDigital marketing strategists will help you optimize your Google Ads campaign. We'll determine the keywords that are relevant to your business. We'll then use the Google Ads platform to bid on those keywords and promote your ads in relevant search results. Our SEO experts will prepare headlines, ad copy, and landing pages to get the most out of your search marketing campaign.
Are you ready to have MercDigital design and deploy a killer paid search advertising campaign for your business?  Contact us to talk to search marketing expert. 
Want more advice on digital marketing or up-to-date news on the latest strategies and marketing solutions? Follow us on Facebook or Twitter. We'd love to hear from you.