The Rise of Data-Driven Marketing
Revenue
Are You Taking Advantage of Data-Driven Marketing?
It's no longer enough to just write witty copy and plaster images of your product over the internet. It now takes more to cut through the bombardment of advertising messages that online browsers are exposed to every day – more creativity and, more importantly, more strategy!
Consumers have become extremely picky about the messages they choose to read and the products they buy. In response, marketers need to find a way to reach the customers that matter most. The secret is to create personalized messages to attract and retain customers. But how do you create and deliver the right message to the right people? How do you make sure your advertising message gets heard? – With data.
Data-driven marketing is the future for meaningful online interaction between brands and their audience. Consumer transaction and engagement data lets you build strategies based on more than just gut instinct and guesswork. Instead, your marketing strategies will go from strength to strength based on actionable insights pulled from the analysis of user behavior, goals, and needs. Data-driven marketing gives you the power to initiate personal and meaningful conversations with consumers – tailored to cater to their unique interests and behaviors, and offering solutions to their individual problems.
What is Data-Driven Marketing?
Data-driven marketing is a strategic approach to digital marketing that uses data to increase the level of targeting and personalization of each advertising message. The goal of data-driven marketing is to continuously build upon the success of each marketing campaign and brand communication.
Data helps create and refine marketing activities that are precisely tailored to the needs of the user. Rather than throw your cash blindly across the internet, blasting your message to a broad population in the hopes that someone will pay attention, good data lets you deliver your message with laser-point accuracy.
Insights from marketing data arms marketers with a real-life understanding of the behavior and interests of actual customers. This enables businesses to reach out to potential customers with relevant messaging, create experiences that are as personal as possible for each user, and get each message to their audience at the right time and at the relevant point of the customer's journey.
Digital marketers can now collect data at every touchpoint to better understand their audiences, and then interpret that data to predict future behaviors and make real-time marketing decisions. Rather than take a traditional mass-market approach, quality data allows marketers to take a more personalized approach to their brand messages.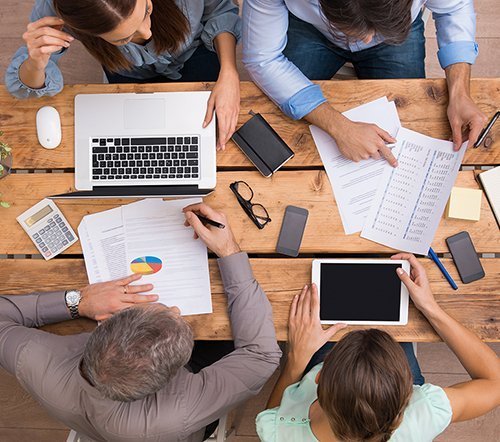 Data-driven marketing is simply a process of finding out what works and then doing more of it.
With changing browsing behaviors, businesses need data-driven marketing to continue to meet the expectations of their customers.

Why Data-Driven Marketing Works
Data-driven marketing offers a win-win to both businesses and consumers. Good data collection and analysis means:
Customer experience is improved by individualized messages.
Message delivery is more easily adapted to suit new trends.
Personalized communication can be offered at all touchpoints of the customer journey.
Engagement can be measured more precisely.
Advertising performance can be tracked and analyzed more efficiently.
Marketing budgets can be allocated with greater focus to increase ROI.
Future campaigns are significantly improved by building on past success.
The insights and knowledge you gain from data-driven marketing gives you a competitive edge by strengthening the connection between your brand and your users. Data tells you about the people you are trying to reach – who they are and what they are looking for. Data tells you where to find customers at each stage of their journey. Data reveals the demographic details and purchase history of people that are the most (or least) likely to become your customers.
Data turns chaos into clarity.

Why Your Marketing Success All Comes Down to Data
Decisions must be based on concrete data:  As businesses learn more about their customers, their needs, interests, and behaviors, they can make sound business and marketing decisions. Data collection and analysis makes it possible to find out who to market to, what kind of content to offer, what incentives deliver the best results, and what product improvements are needed to increase customer satisfaction.
Personalization makes communication easy and effective: Customer data allows marketers to segment their buying audience and create tailored campaigns that speak to niche groups. Personalization is the key to future marketing success. Brands need to be able to initiate meaningful conversations with consumers and create messages that cater to unique interests and behaviors. Data collection gives you the power to get your brand message to vastly different consumer groups in a format they each find appealing.
Customer journeys become clearer: The traditional sales funnel no longer applies to today's consumers. Thanks to a vast range of digital channels, customers don't take a linear path from awareness to checkout. People jump between touchpoints on multiple devices and across multiple channels. They might Google your business from their phone, read online reviews, send a personal message to friends asking for feedback, post on social media for recommendations, use their laptop to price compare, and browse company websites before making a decision. At each touchpoint, your business needs to be able to reach out with an attractive message. Data-driven marketers are better equipped to understand each customers' buying journey and create content to meet their needs at each step along the way.
Data leads to a better understanding of ROI: Data-driven marketing provides usable statistics that attribute successful (or failed) outcomes to a specific marketing action. Marketers can use data to see how many products were sold because of a specific email campaign or quantify conversion rates resulting from social media content. More importantly, data allows you to fine-tune your campaigns on each channel for maximum impact and a continuously improving ROI. By knowing what is and isn't successful, marketers can spend their budgets wisely.
Real-time decisions are based on customer insights: Your customers are real people making individual choices in real time. Data-driven marketing lets you use your resources more effectively by focusing your marketing budget. If real-time social media engagement metrics show that your customers, or people matching your ideal audience profile, have higher engagement levels during certain times of the day, you can adjust the timing of your messages to maximize your reach. If data shows that your most loyal customers want video content, but your biggest spending, new customers want long-form written content, you can deliver tailored content for a higher likelihood of conversion.
Innovation comes from constant data mining: Good data-driven marketers are always mining data for new insights. Marketing statistics won't always speak for themselves. It takes an experienced strategist to use your marketing data to think of new and inventive ways to reach new customer markets, capture audience attention, catalogue characteristics of repeat customers, and identify patterns or trends that lead to purchase decisions. Knowing how and what to test for new insights is the fastest way to improve your advertising effectiveness.

The Future of Data-Driven Marketing
As the chaos and complexity of online content, advertising, and brand messages increases, the most successful businesses will be those with a strong history of customer data analysis and consumer insights. Audience-centric businesses will have the advantage by being able to deliver content that is contextually relevant at the precise moment their customers are ready to make a buying decision.
Data-driven marketing trends will always be influenced by business and consumer demand for great online experiences. But changing technology is seeing the biggest breakthroughs when it comes to data collecting and its marketing benefits. Increasingly sophisticated UX designs that offer relevant content to users while maintaining ethical personal data collection practices are improving our online experiences. Giving consumers the power to control what they see more or less of means marketers need to be innovative – ad content and delivery must remain flexible and continually adapt to new trends. Adopting a mindset of experimentation backed by solid data analysis will be what drives the most successful and fastest growing online businesses coming into 2020.

It's never too late or too soon to start using data to inform your marketing decisions! Marketing strategies that support testing and ongoing analysis to optimize brand messages will offer the biggest ongoing returns. Take the first step and contact MercDigital for a free strategy session to find out how data-driven marketing can work for you.
Get advice to improve your:
Find the information you need:
Discover More of MercDigital's Marketing Services