PPC (or Pay-per-Click) advertising is a digital marketing tactic that has become increasingly important over the past decade. Many business owners underestimate the benefits of PPC, and are missing out on a huge opportunity to grow their business. If you're new to paid search methods of advertising or want to learn more about Google Ads and PPC, read our Google Ads for Beginners guide to understand how paid search works to boost your business.
The Basics of Pay-Per-Click Marketing
With a PPC ad, search engines (like Google, Bing, or Microsoft) allow you to show your advertisement on top of their search results page as a sponsored link. Pay-per-click means you only pay for your PPC advertisement if someone clicks on your ad. This means paid search is an inexpensive and completely scalable form of online marketing. It's easy to start small, measure effectiveness, and grow big.
The main benefit of Google Ads and PPC campaigns is their ability to directly target potential customers at the time they are actively searching for the exact product or service you offer. However, there are a range of advantages and disadvantages to the PPC model. We'll help explain them, so you can make an informed decision about the best digital marketing tactics to grow your business.
The Advantages of Pay-per-Click Advertising
Cost effective –
You choose how much you're willing to spend based on how much a lead is worth to your business. You only pay when a customer actually clicks to your website, making PPC a low risk advertising option that's flexible and great value for money. With a set budget, you know exactly how much your campaign will cost.
Goal Focused –
A Google Ads campaign can be easily tailored to get the results you want for your business. Ad delivery will vary depending on your set goal. The main goals include:
• Get more phone calls for your business – help new clients book appointments or talk to a salesperson.
• Increase visits to your store – attract local shoppers to your physical shopfront.
• Drive people to your website – get customers to shop at your online store or fill out a form on your webpage.
Highly Targetable –
You choose your audience according to demographics. As of today, Google Ads is more flexible than the previous AdWords platform for demographic targeting. You can choose a number of factors for demographic targeting including location, age, gender, parental status, and household income.
Increases Brand Exposure –
PPC and Google Ads get your business and its products or services in front of more consumers. Capture mobile shoppers ready to make a purchase, or extend your reach into new markets. Paid search and PPC lets you find an audience for your brand quickly and easily. Use Google Ads "Affinity Audiences" to expand your reach to new audiences based on lifestyle, buying habits, and long-term interests.
Customizable –
Google Ads are highly flexible. You have complete control over every aspect of the ad from creative content, cost per click, keyword bid, demographics, seasonality, and more. You can run multiple campaigns using a variety of keywords aimed at various demographics. Negative keywords also let you rule out specific searches to optimize ad spend. You can also easily finetune your campaign along the way based upon your clicks and conversions analytics.
Measurable –
PPC campaigns are easily reportable and deliver measurable results. Complete tracking with Google Analytics lets you see exactly how many leads came to your site via your PPC ad and which keywords or ad copy were more successful. Analytics from your PPC campaigns will clearly track your ROI.
Fast Results –
It can take months for organic search engine optimization (SEO) methods to make a measurable impact. With PPC, you'll see almost instant results. While users often prefer organic search results, combining PPC with SEO will deliver the best of both worlds.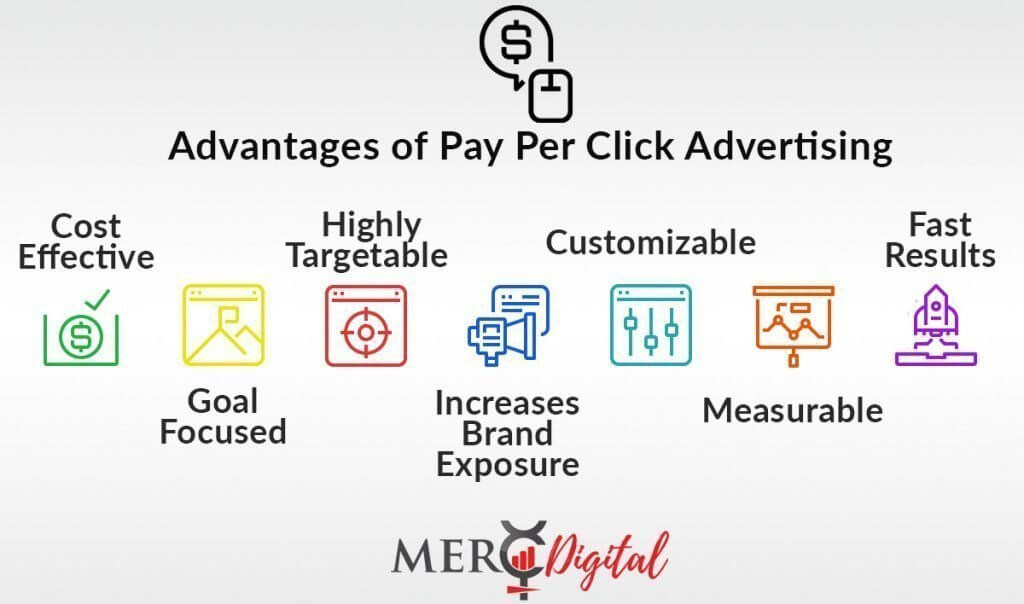 The Disadvantages of Pay-per-Click Advertising
While PPC can be a winning tactic within your overall strategy, there are some challenges to creating a successful paid search campaign. The main disadvantages of PPC advertising are:
Specialist Skills –
It takes experience with keyword research, bidding, and creative copy writing to set up a winning campaign strategy. Most businesses planning a Google Ads campaign will need to outsource their digital marketing to make it worthwhile.
Time Consuming –
You can't just set up your PPC campaigns and leave them. You need to invest time into optimizing and improving to get the best results and ensure sales conversions. Reaching new markets involves further research and keyword implementation.
Costs can quickly add up –
While you only pay per lead, you will need to allocate a budget for PPC campaigns or risk escalating costs. It is essential that you monitor and optimize your PPC campaign or risk paying money for unprofitable keywords that are clicking but not converting.
Leads can quickly dry up –
If you stop paying for ads, you'll stop appearing on the search results page. Unless you also work on your organic search performance, you will need to continue paying for each click. While enjoying the boost in exposure that PPC offers, you must invest time and skill in your customer's post-click experience
Clicks don't always convert to sales –
A PPC campaign will not work on its own. You will need to make sure your website offers the user experience needed to convince your new visitors to make a purchase. Converting leads to sales requires a complete digital marketing strategy
How to Increase the Effectiveness of Pay-per-Click Advertising
Pick the right keywords for effective targeting 

–
Your keywords should reflect all of the different types of user queries that could help someone find you. Broad-match keywords will capture long-tail queries and less-specific searches to grow your audience, while exact-match keywords will target specific customer groups. Refine your traffic and save money by including negative keywords. Continue to analyze your keyword list and delete low search volume keywords. Remember, extending your reach isn't always about adding in more keywords. Know when to maximize your presence on existing keywords with a more aggressive bid and higher quality ad text to bump your Ad Rank.
Write great copy for your ads –
Craft messages that are clear, compelling, and authentic. Remember that your ad is an opportunity to talk directly to the people interested in your product or service, and that individuals will respond to the ads that speak to their needs. Tell searchers more about how your business can help them. Make sure you tie your ad text in to your keywords. Use specific calls to action in your language. Create several ads with different headlines and ad text across each group to experiment and optimize your overall campaign. Focus your ad creative testing in areas where improvements matter most.
Track your Goals and Performance –
Set specific conversion goals for your ad. This might be an online store purchase, a phone call, collecting new lead details via a website form, or an app download. Conversion tracking is relatively easy to set up, although it requires a snippet to be placed in the header of your website. Use performance tracking to spot trends: is one campaign out-performing the others? Are particular days of the week delivering higher conversions?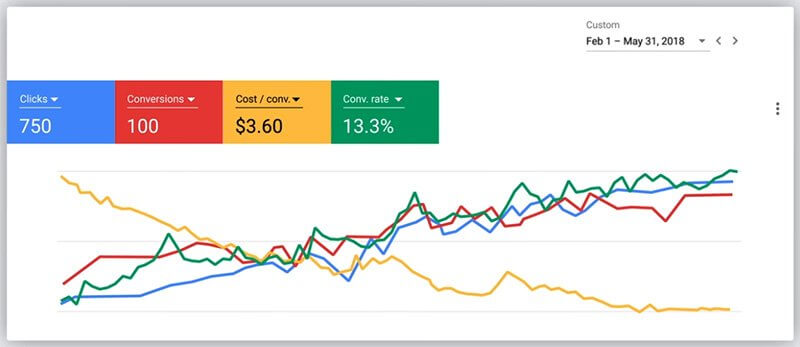 Enhance your ads with the right extensions –
Implement as many ad extensions as are relevant to your business. Ad extensions give searchers useful information and help to customize their experience. Ads with multiple extensions perform better than ads showing only one extension.  Campaign-level ad extensions include Sitelink Extensions, Call Extensions, Structured Snippets, and Call-Out Extensions. Each extension gives you a chance to highlight brand attributes, and direct searchers towards conversion goals specific to their needs.
Adjust your bids to maximize profits –
Effectively managing your bids is the best way to maximize profits from your Google Ads campaign. While conversions help you measure potential sales, a profit-based bid strategy uses higher profits as the measure of success. This strategy relies on a formula that calculates the full value of each Google Ads customer. Manually test informed changes to your bids to find new opportunities for increased profit. Find a balance between the time it takes to manage manual bidding with time best spent elsewhere. Scale your bidding strategy so that it's easy to manage by using an automated bid strategy to allow Google's algorithm to make automatic adjustments based on your set goals. Smart Bidding considers a range of auction-time signals including device, location, time of day, remarketing list, and language to capture the unique context of every search to tailor the right bid.
Re-engage past visitors with display remarketing 

–
Enhance your Google Ad by remarketing with Display Ads. Remarketing helps you reach consumers who have previously shown an interest in your product or services by visiting your website. Previous visitors will see your ads when they browse other sites that are part of the Google Display Network. Segment your audiences by creating automatic remarketing lists based on website interaction, and then target each audience with different bids or ads. Deliver more relevant ads to improve your performance with dynamic remarketing. Dynamic remarketing not only puts your ads in front of previous website visitors, it tailors the ad creative to include the actual products or services the specific users viewed on your site.
Don't forget the post-click experience 

–
To really increase the effectiveness of your Pay Per Click advertising campaign, you need more than just clicks. While PPC gets your ad in front of more consumers, you need to deliver on your promises after they click.  With a profit-based strategy, you're not just measuring conversions, you're measuring sales and profits. If your goal is to drive more visitors to your website, optimize your landing page with a great user-experience and relevant content. Give your visitors what they clicked for. If your PPC goal is to get more phone calls or visits to your store, make sure your salespeople are aware of your marketing content, so they can meet your customers' needs.
Ready to Get Started with PPC or Google Ads?
Let us help you create your first Google Ads Campaign!
Contact us and talk to a MercDigital marketing expert. 
Want more advice on digital marketing or up-to-date news? Follow us on Facebook or Twitter. We'd love to hear from you.