The Financial Impact of Your Online Reputation
Reputation
Although most business leaders can make the logical connection between a strong brand presence and increased business, putting a tangible value on the benefits online reputation management will have on ROI is more difficult.  
If you're not sure how online reputation management (ORM) helps businesses to both increase revenue and reduce operating costs, it's time you got up to speed with the latest research on measuring the financial impact of your online reputation.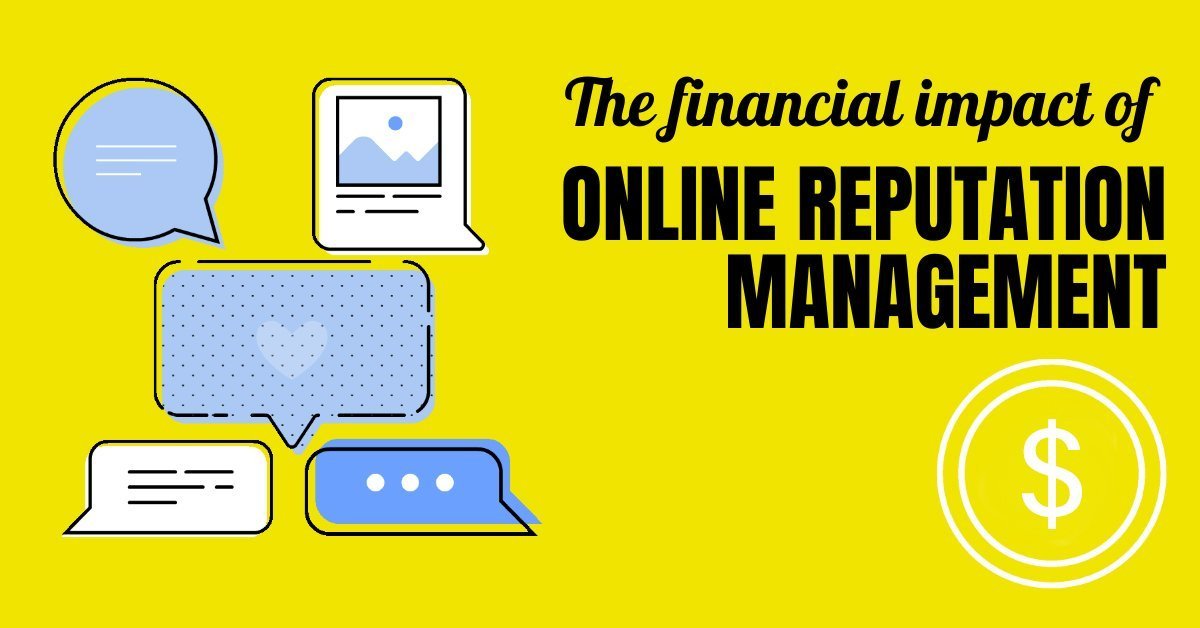 The two clearest paths to increased ROI are top-line revenue growth and bottom-line cost savings.
Top-line revenue growth can only be achieved selling more of your goods and services, or by selling at a premium. The fastest way to achieve top-line revenue growth is to do both. Advertising may help you sell more, but it's a rare advertising campaign that will effectively help you sell at a premium. Direct advertising will increase your sales while your campaign is running. But, stop spending on advertising, and you'll stop making sales.  
Reputation management, on the other hand, has a measurable and significantly longer-lasting impact on your ROI.
Bottom-line cost savings can be achieved by optimizing your internal operational costs.  This doesn't mean compromising on service or cutting corners. Instead, removing complexity from your business processes and taking advantage of new technology can reduce your costs.
Professional online reputation management offers clear paths for increasing top-line revenue and decreasing bottom-line costs.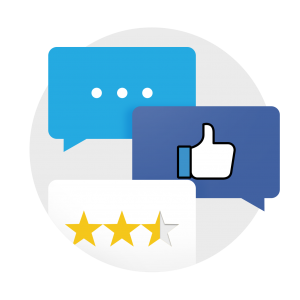 Drive ROI through Review Management
Managing reviews involves requesting, monitoring, and responding to customer reviews. Consistent Review Management leads to both more reviews and better reviews! Repeated research recognizes that a higher number of reviews leads to higher average star ratings.
If asked, approximately 71 percent of consumers will leave a review for a business. This reinforces the need for every business to have a reputation marketing strategy. 
And, more importantly, there is a direct correlation between review volume and your Google search rankings. The more reviews you have, the more likely you are to rank among the top three Google Search results and get more views and more clicks for your business.
Active review management results in:
A higher volume of reviews

More positive reviews.

Elevation of your ranking in search results.

More clicks to your website.
Reducing Bottom-line Costs by Outsourcing Review Management
It's important to reduce the labor costs associated with managing each facet of your online reputation. Professional ORM means you can leverage technology to do the work for you. Putting in place a system for automatically requesting reviews can see review volume increase between 2X and 10X faster. Adopting a comprehensive strategy for building a better reputation means it's simple to claim business listings across review platforms, stay on top of customer feedback, and keep your brand above the competition.

Drive ROI by Engaging on Social Media
In today's online world, social media is the most effective tool for increasing brand awareness and engagement, and the easiest way to win new customers. Unfortunately, it's difficult for businesses to calculate the true ROI for social media.
Social Media is the cornerstone of any online marketing plan. The majority of internet users in the U.S. aged 18 – 29 years have social media accounts with Facebook (82%), Instagram (76%), Snapchat (73%) and Twitter (52%). And 1.6 billion people worldwide are connected to a small business on Facebook.
Brands that are actively engaged on Facebook have a significantly higher volume of reviews and more traffic on Facebook when compared to non-engaged brands. When you engage on social media, you can expect to see up to 44% more reviews across all review sites and up to 10% higher star ratings across all sites.
Online reputation management tools can help you examine social media engagement and identify correlations between Facebook activity and reviews, ratings, and conversions. Research shows that the quality and style of social media posts has an impact on both reach and engagement.
Reducing Bottom-line Costs by Outsourcing Social Media Management
Managing your brand's social media engagement and content is not only time-consuming, it takes specialist skills. Advertising across multiple social channels poses additional challenges with content specifically curated to appeal to different audiences, locations, and buying intent. Effective social media is about more than simply posting to your channel.
Not All Social Media Content Is Created Equal
Owned social media—that is, a company's own tweets, Facebook posts, or YouTube videos—is likely to increase brand awareness and customer satisfaction but not purchase intent.

Earned social media—that is, what consumers say about brands on these channels—is even more valuable, potentially increasing all three consumer mindset metrics.
Recently published research by Northeastern University Business Marketing Professor Koen Pauwels examines the link between consumers, social media, and financial performance.
"Rather than spending marketing dollars on owned social media to persuade customers to buy their products, marketers and social media managers should craft their OSM messages to target customers to improve brand awareness and customer satisfaction." 
Expert social media and reputation management means actively participating in conversations about your brand. Encouraging great online interaction will pay off with an increase in brand awareness, customer satisfaction, and purchase intent.
"Corporations with high credibility are far more likely than brands with low credibility to increase purchase intent with their own posts. Put another way, convincing a customer to buy your brand in 140 characters is a lot easier if you have a great overall reputation."
Improving your online reputation pays dividends!
For businesses looking to succeed, online reputation management is no longer optional. Streamlined and professional ORM will keep your brand top of mind for your audience, drive traffic, and grow business revenue. Maintaining a good reputation ensures that your ROI continues to increase over time.
It's time you took active steps to improve your business reputation. MercDigital offers a range of services to help you improve your online reputation. We can get more positive reviews published on your business listing with professional CRM services, we can manage your review responses, boost search performance by improving your star rating, and actively manage your social media.

Don't let your business suffer from a poor online reputation. Take the first step and contact MercDigital for a free strategy session to find out how we can improve your business revenue with online reputation management. 
Get advice to improve your:
Find the information you need:
Discover More of MercDigital's Marketing Services