Facebook Statistics for 2019
Facebook is the most popular social network channel in the world.
1.6 billion people worldwide are connected to a small business on Facebook.
More than two billion people use Facebook every month.
1.56 billion people worldwide check their Facebook account daily.
In the United States, 82% of internet users aged 18 – 29 years have an active Facebook account.
Why Use Facebook Ads for your Business?
Paid Facebook Ads give you the chance to engage with a wider audience and get your brand noticed.
You can run Facebook Ads to promote an event, a new product range, or a special promotion. Or, you can create a Facebook Ad campaign specifically to generate more leads, increase brand awareness, and aid customer retention.
Facebook allows for a huge range of targeted demographic options. Once the Facebook Pixel has been added to your website, you can set up ads to target website visitors automatically.

The Facebook pixel is a small piece of code for your website that allows you measure, optimize and build targeted audiences for your advertising campaigns. As people visit your website and take an action (for example, download a report or make a purchase), the Facebook pixel records and reports this action. Data collected from the Facebook pixel lets you create custom ad audiences from website visitor profiles, measure cross-device conversions, and optimize ad delivery to people most likely to take action.
We all know that Facebook notices our shopping and searching behaviors. If you recently searched for information on the latest 2019 release phones, you've probably noticed an influx of phone-related ads on your Facebook feed. Even without making a purchase, Facebook has noted your shopping habits and has added you to that interest category. You can use Facebook's audience data feature for your business to target interest groups and create custom audiences for your products and services.
Once an ad is created for your business, you can display it across all devices on Facebook, Instagram, Audience Network, and Messenger. You have control over your budget, audience, ad frequency, and more. Cutting through all the noise requires experience and a good social strategy.
Tips for the Best Facebook Ad Strategy
Be authentic.
Your advertising voice should be a reflection of your business's personality. Every business has its own unique story and identity. Use your Facebook ads as an extension of your brand message and personality. The more authentic your ads are, the more effective they will be. From copy to images, be yourself and be consistent.
Understand your target audience.
Social media removes the barriers between your business and your customers. Your Facebook Ads are a powerful way for you to speak directly to their motivations and aspirations. Use targeted demographics to address specific markets and directly show people the role your business plays in their lives. Use different versions of creative copy for each audience to ensure your message gets through to the right audience.
Define your theme.
Defining a campaign theme or concept that ties your ads together helps to leave a lasting impression. Stand out by expressing your brand's unique point of view or selling proposition in your Facebook Ads. Your campaign theme might be a concept, a visual theme, an event, or slogan. Use it to create consistency amongst all of your online ads.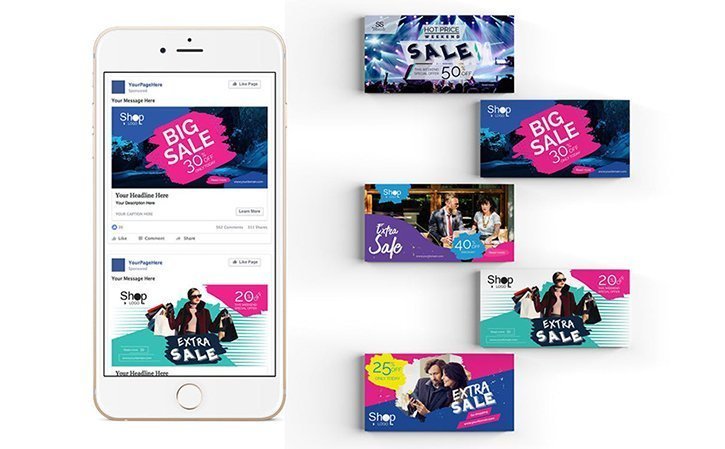 Facebook Lead Ads
With Facebook's Lead Ads, you can collect sign-ups for newsletters, get details for price estimates, and collect detailed information from potential customers.
The "Instant Forms" that people fill in appear natively on Facebook and Instagram making it an easy way to identify and connect with potential customers and then share relevant information with them in the future.
The information you can collect with Facebook Lead Ads includes names, email addresses, and phone numbers, plus you can ask people custom questions tailored to your business or promotion. All this information can be downloaded directly into your CRM software so you can take real-time action on new leads.
Facebook's lead ads can help you meet your business goals if you are aiming to:
Generate new leads for your business
Find out more about people's interests
Get people to sign up or register for a service
Get people to download a brochure or eBook
Get people to enrol in your program
Facebook Recommendations
In late 2018, Facebook announced that the platform had updated the way consumers interact with local businesses. This included replacing star ratings and reviews with their new Yes/No Recommendations feature. Now customers can leave taggable Recommendations of a business that are then posted on the company Facebook page. This gives consumers a better insight into what they can expect from that business based on previous users' experiences. Recommendations can include keyword tags for a range of customer feedback options.
Harnessing this Facebook feature is one way businesses can use social media to build a great reputation and start conversations with their market audience. Businesses can cultivate a consistent story about their brand with Recommendations. Selected tags allow themes to emerge in your feedback making it easier for potential customers to see what your business is known for.
Find out how MercDigital can help you generate new leads and grow your business with a fully Managed Facebook Ad Campaign.