For most businesses, simply posting on Facebook isn't enough. While Facebook is home to 1.56 billion daily active users, it's not always easy to get in front of your audience. While your followers might be getting your latest offers, there's millions of other potential customers on Facebook who aren't hearing from or about you.
Paid Facebook Ads help you bridge the gap. Facebook's comprehensive targeting and audience options let you connect with people at all stages of their buying journey – from the awareness stage, the consideration stage, to the decision stage – with content specifically tailored to their values and interests.
If you're new to paid social media marketing, our beginners' guide to Using Facebook Ads in your Marketing Campaign will step you through the basics, plus give you tips on designing the best Facebook Ad strategy for your business.
In this guide, we'll step you through the 5 different ways you can connect with your various audiences and, most importantly, reduce your costs per lead on Facebook.
If you've run Facebook Ad Campaigns in the past, you already have access to a ton of money-saving data. The analytics generated with each Facebook campaign can be used to drastically cut the cost of future ads. Use this data to learn which demographics your ads perform bests in and increase your ad spend in these areas.
The charts in your Ads Manager dashboard will show you how past ads have performed by gender and age. Once you identify which demographics perform best, you can set your future audiences to exclude under-performing demographics, so you don't waste money on people who are less likely to be interested in your offers.
If the results of your ad performance in particular demographics is surprising, it might be worth asking why? It's possible that your ad creative didn't resonate with a particular audience. If that demographic is important to your business, rather than cut spending in those areas, you should spend time re-designing your ad copy and creative.
If you haven't run Facebook Ads before and don't have access to consumer data, don't worry! There are other social media analytics tools available that give you the opportunity to measure how your followers and website visitors are engaging with your content. 
Facebook makes it easy to use A/B split testing to compare different versions of your ad. The different variables available for comparison include:
Target audience

Delivery optimization

Placement

Creative

Product sets
Test out a few variations to see which audience, ad format, and delivery options give you the best results. You can even tell Facebook to automatically cut spending to the least effective ad test if there's a clear winner. At the end of the test, the cost per result of each ad set is automatically calculated and compared. You might find that people are more likely to engage with your ad at particular times of the day, or that men aged 18-25 browsing on mobile devices are your biggest fans. You can use these insights to fuel your future advertising strategies and to help you design your next campaign. Knowing which audience and ad format gets you the best results is a great way to continually optimize your ad spend.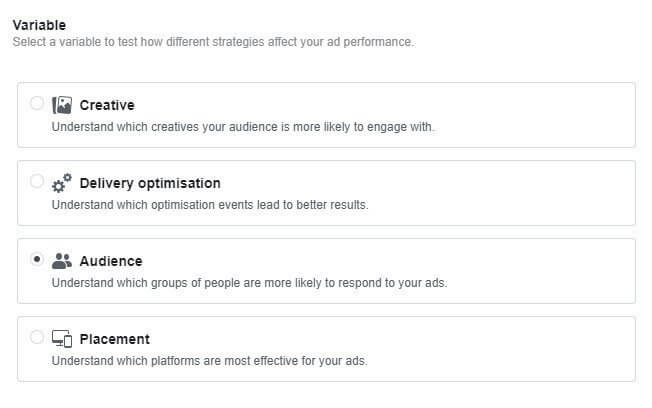 Facebook offers a range of targeting options to refine your ad audience. There are two main approaches you can take when deciding on an audience: specific or broad. Your choice will depend on what you're trying to accomplish with your ad campaign and the resources you have available.
Broad Targeting might be your choice if you want to test out a new offer or you aren't sure who to target. For example, a large-scale Brand Awareness campaign might target people aged 18 – 65 years old in the United States. This broad audience might result in new customers you would otherwise not have known about but may require a greater ad spend.
Specific Targeting is likely to be the best choice if you already have some idea about the best people to show your ad to. It means you're setting a relatively strict set of parameters to limit your audience. For example, if you're opening a new store and know that women over 40 are your biggest customers, you can limit your audience based on zip code location and demographics. You can further refine your audience to women who like yoga and the beach, or even to those who liked Game of Thrones!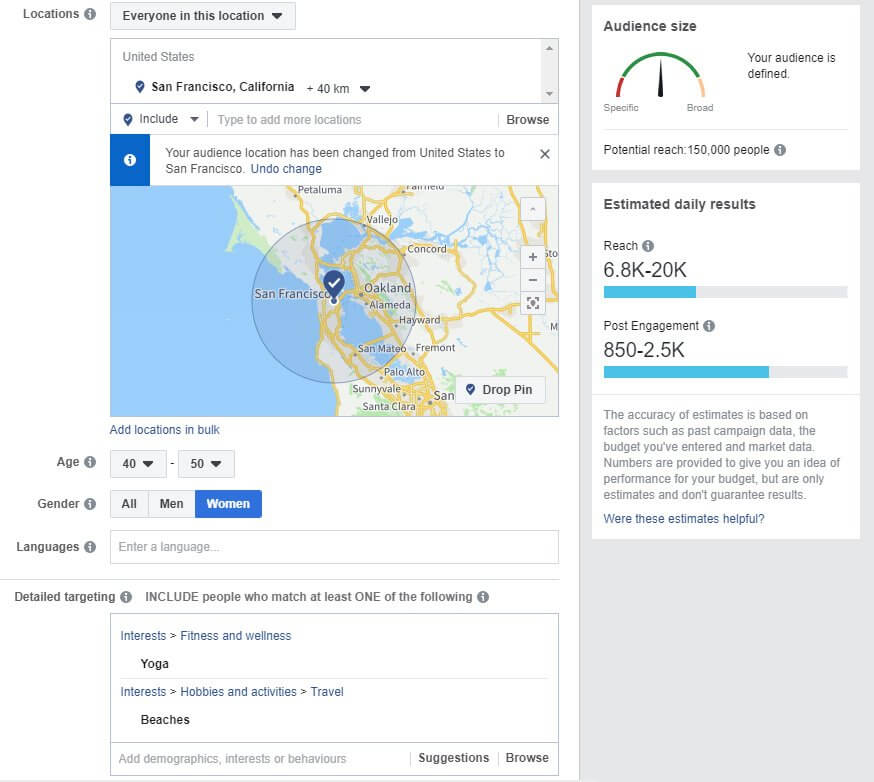 4. Facebook 'Lookalike Audiences'
Facebook gives you the option to create 'Lookalike Audiences' based on your most engaged customers.
There will always be people who just aren't interested in your offer. There's no point paying for them to see your ad. But if you want to expand your reach, or test out new markets, it might be hard to know where to direct your money.
Facebook Lookalike Audiences makes it easy to connect with people on Facebook who are similar to your customers. Lookalike Audiences give you the best chance of expanding your campaign reach while also getting in front of people likely to be genuinely interested in your brand or offer. Facebook uses its unique algorithm to analyze data on your most engaged customers and then create a much larger audience of people who show similar interests or demographics to those customers.
You can create your Lookalike Audience from a base engaged customer list generated either via existing Facebook stats, or via website traffic, app activity, or even your own customer data file. It's also possible to assign Lifetime Customer Value to your audience file for more specific lookalike audiences. This also lets you bid differently for audiences that you value differently.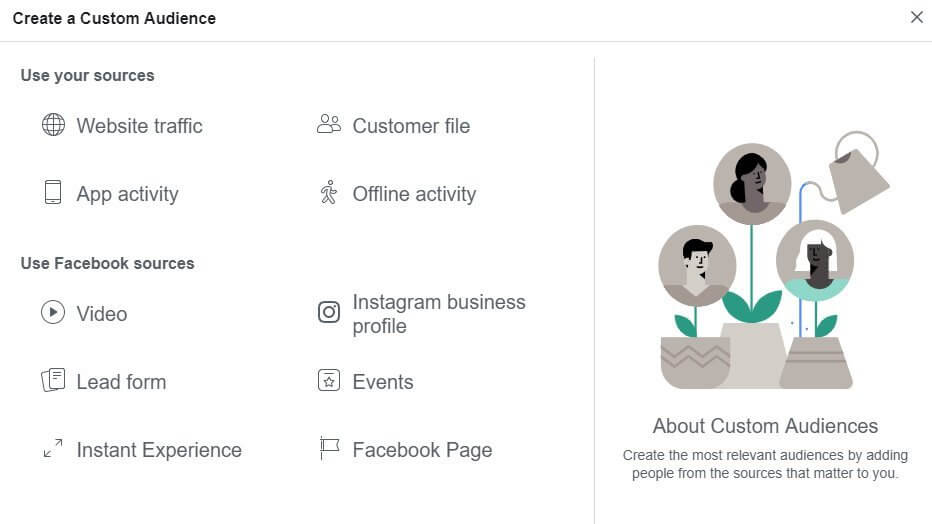 Facebook Lead Ads make it simple to acquire new leads by capturing people's information without interrupting what they were doing. In a standard Facebook Ad, a person will be directed to a landing page (usually your website) for further information about your offer. With a Lead Ad, the user stays within Facebook. When they click on your offer, a page loads with automatically populated fields containing information from the person's Facebook account. This makes it fast and simple for new prospects to learn more about your brand.
While it's true that someone who is willing to leave their social feed to come to your website via a longer click-through path and fill in your contact form is likely to be a more high-quality lead, a Facebook Lead Ad allows you to collect contact information for people who are mildly interested and who might be more interested in your product in the future. As part of a Brand Awareness or Reach campaign, Facebook's Instant Forms make it easier to capture prospective customers early in their buying journey. Lead Ads are particularly great for campaigns targeting mobile users. They can also save you time and money by avoiding the necessity of having to design an offer-specific landing page.
Ready to start advertising on Facebook?
Armed with some great advice for advertising on Facebook, it's time for you to get your offer in front of your audience and start pulling in those leads! If you want to know more about using Facebook to boost engagement as part of your marketing plan, we have tips on how to promote your brand on social media in our Beginners' Guide to Social Media Marketing. 
MercDigital can design and deploy a killer social media advertising campaign. We'll help you generate new leads and cut your Facebook Ads cost per lead. Contact us to talk to a MercDigital marketing expert. 
Want more advice on digital marketing or up-to-date news on the latest strategies and marketing solutions? Follow us on Facebook or Twitter. We'd love to hear from you.