How to Win Your Competitors' Customers
Reputation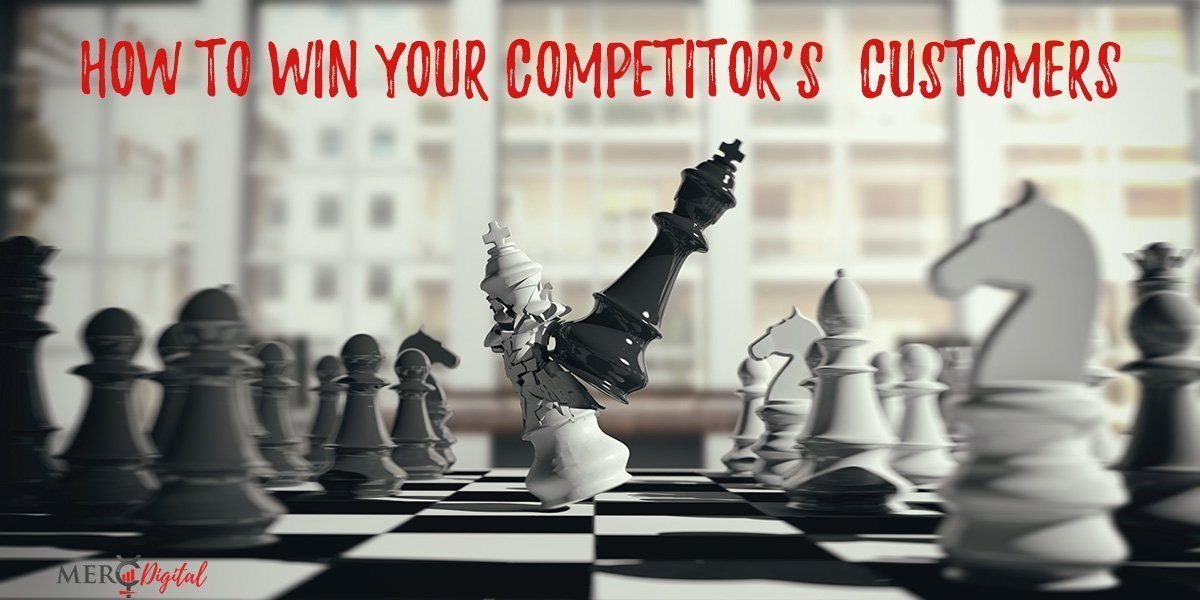 Do you know who your ideal customer is?In any business market, once you truly understand who your customers are, and what they need from you, it becomes so much easier to show them why your products or services are going to be the best fit for them.This fundamental concept is especially true in digital advertising where a consumer's impression of your business may be based entirely upon what they see and hear online. And, more importantly, the chance of a consumer discovering your brand may rely entirely on the keywords they use when they search. If you don't have your targeting on-point, you're going to throw money away by advertising to people who just don't care. It won't matter how witty your ad copy is, how eye-catching your images are, how engaging your video is, or how optimized your landing page is...They may click, but they won't convert.But what if you could access an existing group of people who are not only interested in your products or services, but who are already primed and looking to buy?Good news! That group exists. They're your competitors' customers!And MercDigital can show you how to use this to your advantage.
How Competitive Marketing Can Work for You
What if you could get your ad directly in front of a ready-made target audience?What if you could learn all about the interests, values, and demographic makeup of the people who are actually spending money on comparable products and services?What if you could use your competitors' marketing budget to get leads for your business?We're here to show you how you can do all this, and more.
Using Your Competition's Budget to Source Leads
One of the most time consuming and expensive aspects of creating a successful marketing campaign is fine-tuning your targeting. Cutting through the background noise to find the people most likely to purchase takes research and a significant budget.The fastest way to increase your marketing budget is to use your competitor's!If your competition has spent money on building their brand to become a recognizable name, or are running video or local radio ads, it's easy for you to capitalize on their investment.
How does competitive marketing work?
Marketing to the competition let's you access leads that are already into the research stage of making a purchase – people who have been exposed to your competitors' advertising and are ready to find out more. Or consumers who already know enough about a brand to have searched for them online. They are part way along your competition's sales funnel!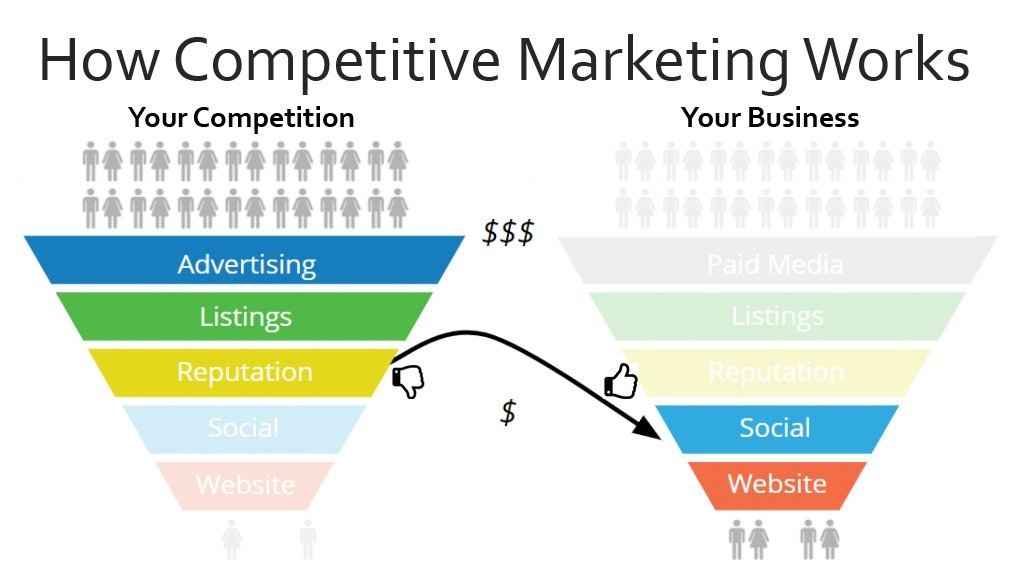 Imagine they've come to Google, social media, or a business listing looking for more information, and they encounter some negative reviews that haven't been addressed by your competition. The consumer is ready to purchase, but brand reputation and trust is important to them. They're not quite convinced, and now are looking for options. This is your chance to make a great impression!Your competition has spent their money on advertising and marketing to that consumer, and pushed them directly into your hands right at the time they are ready to make a purchase.
What About Brand Loyalty?
The traditional concept of customer loyalty has shifted. Recent research shows that even long-time customers' allegiances can be swayed if they are presented with a better offer or find a new company who appears to share their values.Recent research into brand loyalty from Accenture found that:
| | |
| --- | --- |
| | 61% of consumers have switched some or all of their business from one brand or provider to another in the last year. |
| | 77% of consumers said they now retract their loyalty more quickly than they did three years ago. |
| | 66% of consumers think authenticity and transparency are a brand's most attractive qualities, and will make their decision to buy from certain brands over others based on these qualities. |
Targeting Your Competition
The best thing about marketing to your competitors' customers is that you already know a lot about them. They share key characteristics with your current customers, so they're likely to be responsive to many of the same messages. This makes it easier to create digital ads that will make them want to click.But how do you make sure you're there to swoop in and present a better offer?What are the easiest and most cost-effective ways to use competitive advertising to target your competitors' ready-to-buy customers across multiple channels?Here are five of the best strategies for targeting your competitors' customers:1.    Bidding on the Competition's Brand Name with Google Ads.
This strategy is an easy way to get cheap, high-quality Google Ads clicks. Brand keywords are generally the best performing keywords to target – they're super relevant, and people searching with brand terms are often very familiar with the product or service they are looking for, making them much higher-value leads! Find out more about Google Ads in our Beginners' Guide or learn about the Advantages of Paid Search advertising.  2.    Targeting Your Competitors' Customers and Interests With Social Media Ads.
Facebook's ready-made targeting options makes this strategy outstanding value for money. With some clever targeting selections, Facebook Ads make it possible to target people who have 'liked' pages related to your competitors, and people with similar 'interests'. There are also tools available that let you download a complete list of the Twitter users who follow your competition. Learn how Social Media and Facebook Ads makes it easy to send your promotions direct to your competitions' customers. ? Pro-tip! Use the same targeting principle to set your competitors' companies and employees as negative audiences to exclude them from seeing your ads!  3.    Placing Your Own YouTube Ad Before Your Competitor's Videos.
If your competitors' YouTube settings allow monetization, you're in prime position to hijack your competitor's customers with a video ad! Imagine their frustration! You'll be able to leverage your competitor's custom video content by creating a relevant video ad to screen before their video even shows! If your ad is good enough, their customers might click straight to your page and not even see your competitor's original video. Video is a great way to boost your conversion rates!4.    Reach your Competitors' Audiences Through the Google Display Network.
How would you like to target consumers who visit your competitor's websites? Google's 'Custom Affinity Audiences' and their adaptable Personalized Advertising options (formerly known as interest-based advertising) make it possible to steal customers direct from your rival's website by serving your Display Ads to active buyers.5.    Get Your Ad on Your Competitors' Yelp Profile.
While you may experience frustration with your own Yelp profile and business reviews, there is value in appearing on your rivals' Yelp profile. Yelp doesn't make it easy to know which keywords are working best to draw in customers, but it does offer some advantages alongside an awareness campaign. If you're operating a small business in a large market with high-profile competitors, competitive advertising can help you to quickly build brand awareness in your market.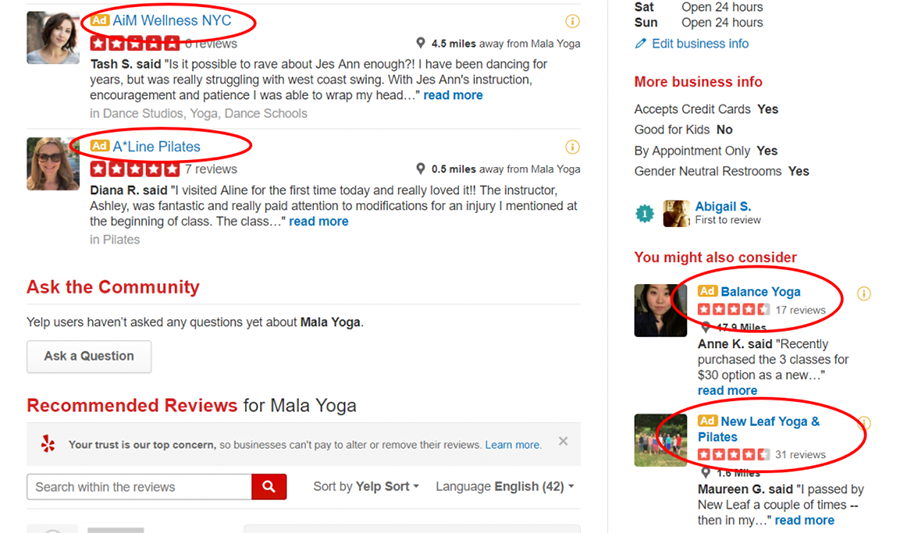 Competitive marketing is not only knowing how to reach your competitors' customers, but also how to entice them to purchase from you instead. You need to win over your rival's customers by demonstrating why you, and no one else, is the best choice for them.

How to Win your Competitors' Customers
Going after your competitors' customers does come with some risks. The internet is full of product options and choices – make sure consumers have easy access to favorable information about your brand.If you're putting the effort into getting their attention, make sure you follow through with a convincing argument for why they should make the switch to your company. If you can't convince your competitor's customers that you're the best option, you risk strengthening their allegiance to your competition. Before you start with competitive advertising, focus on boosting your online reputation. Your priorities should be curating and responding to customer reviews, creating an easily navigable website with authoritative content, and building an engaging social media presence.1.     Showcase Great Customer Reviews.
Don't underestimate the importance of positive reviews! Make sure you have great testimonials and customer reviews front-and-center on your webpage. You can guarantee that, before making the switch, your competitors' customers are going to want to hear from your loyal fans. Be sure to professionally address any negative reviews and look to see what you can do better next time.2.     Conduct a Competitive Audit of your Competition's Website.
Identify who their site visitors are. Find out what's working for them. And then identify your own unique selling proposition. If necessary, optimize your landing page and website sales funnel to ensure you stand out from the competition. Make it easy for first-time site visitors to find the information or product they need and complete the sale.3.     Content is King.
Show your potential new customers that you understand them and have the knowledge they need. Use the data you have on the demographics and interests of your competitor's customers to create targeted and personalized content that speaks directly to their needs.4.     Social Proof will Make or Break You.
Get on social media and show your competitors' customers why they should trust you enough to make the switch. Create a highly engaging community by interacting with your current customers in a personalized way. Make sure it's clear that you value your existing customers. People are influenced by what others are buying. Build your reputation by encouraging your own followers to share and post about their great experiences with you.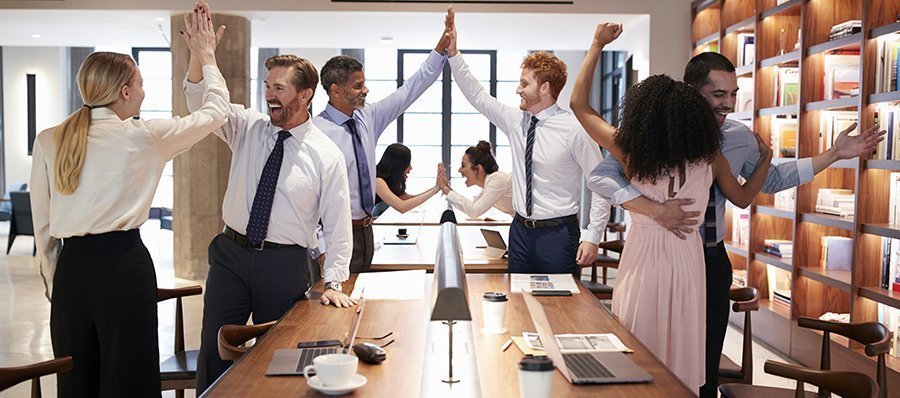 Are you ready to conquer the competition? It's time to get started with a marketing strategy that's proven to win over quality leads. Contact MercDigital's marketing team and find out how we can tailor a campaign strategy for your business. Need some extra advice or help running a digital ad conquest campaign? We've got the experience to show you how it's done. Send us a message to find out what we can do for you.

Follow us on Facebook or Twitter for up-to-date news on the latest strategies and marketing solutions.
Want More Traffic?

Schedule A Free Strategy Session

Featured Posts

Get advice to improve your: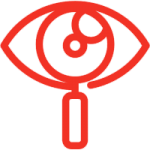 IMPRESSION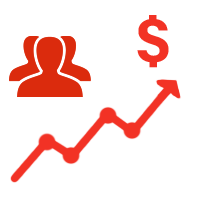 REVENUE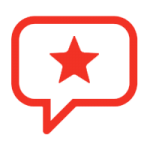 REPUTATION
Find the information you need:

Find us on Facebook

Discover More of MercDigital's Marketing Services
Ready to find out more?
Contact us to see how MercDigital can help grow your business.